Pools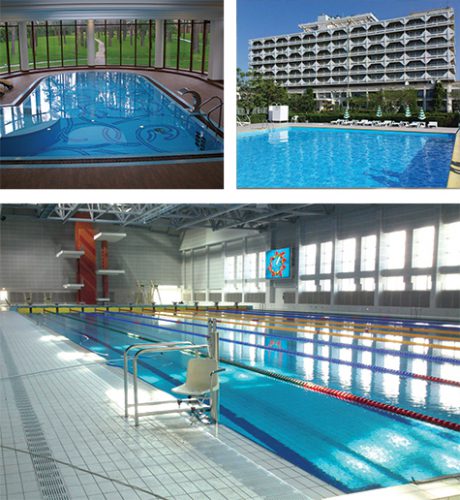 Complete system solutions in designing and construction of swimming complexes. Creation of water-sports complexes that meet requirements of International Swimming Federation.
If you want to have your own health and leisure area, while the swimming pool is just what you need. It is well known that the pool is a source of youth and beauty, positive emotions and well-being. That is why the pool has a huge popularity throughout the world.
Swimming in the pool improves the functioning of the heart, respiratory and nervous system. Water procedures strengthen the immune system, improve health and help to lose weight.
With extensive experience in the construction of swimming pools, we are engaged in the development and installation of water facilities of various kinds. Among them: swimming, sports, education (for school facilities), combined, covered, open, transforming and specialized (for dolphinariums, water parks).
Crystal clear healthy water in a horse swimming pool near Dubai
Thanks to the refusal of chlorine use for water purification and due to the installation of electrolysis plant and modern equipment, we achieved an impressive result in a pool with a large organic load, in which about 60 horses swim daily. The pool cleaning takes place in a unique way, specially designed to provide a healthy water quality, in which it is absolutely safe to swim.
Horses enjoy swimming in the pool near Dubai
After riding and walk through the emirate desert, horses regain their strength in crystal clear and healthy water. Water is prepared without the use of chlorine and other harmful to humans and animals chemicals.
Examples